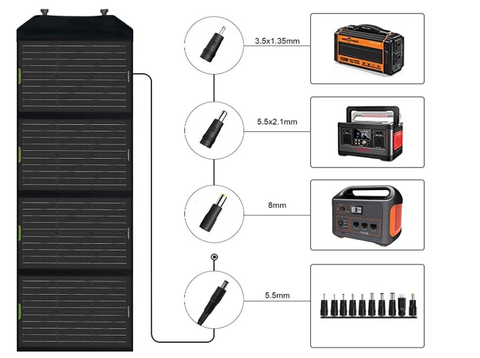 Q1.How to connect this portable panel to my power station? Does that regulator/ controller necessary?
A1. Because of Power station with build-in controller, Solar panel can directly go to power station with no worry about overcharge.
Our New version portable panel comes with DC connectors, which are fitting with 12V DC Input of power station in market. But some brand power station build with different DC input port, you will need get extension cable with suitable adapter.
Here are some solar charge input information of popular brand power station:
EF ECOFLOW Portable Power Station==DC to XT60 
JACKERY Portable Power Station Explorer 300===DC to 8mm 
NEXPOW or Goal Zero Portable Power Station===DC to 5mm/2.1mm 
Q2. Why my panel can't produce rated amps to charge my power station?
A2. Almost all panels can't get perfect environment in reality application, and that lead to panels vary in amps. 
Q3. Why my inverter comes with outlet i can't identify?
A3. We have 2 usual type inverter for this portable panel kit, the 600W inverter with typical US outlet, and 1000W inverter with a universal outlet which is fitting with US, EU and UK plug. 
Q4.How to know if my panel is charging my battery?
A4. For the regular lead-acid battery, it is charged by controller and you can monitor charging amps and other information on that by hit the red button.
For power station, you can identify charging amps on power station monitor.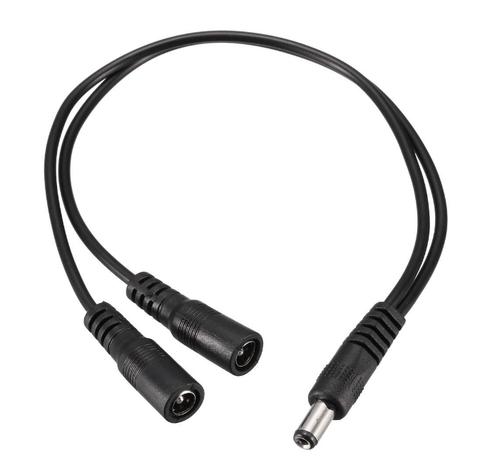 Q5. Can I add more panels with more panels? and how can i get that done?
A5. Yes, you can expand more panels in parallel to this kit, but you are need to get some accessories, 2 in- 1 out connector like this one,
Q6. How to maintain this portable panel?
A6. The panel is made of durable Oxford cloth, not design for permanently install outdoor and expos to all environment, so it needed to be keep and store indoor when you not use it.

Q7. How to troubleshot it when my kit is not working correctly?
A7. This is one complicate question which could relate to many factors.
For the most case, you can tell it by controller parameters and icons display.
The iconof solar panel refers to your solar panel is connected well, if you got no this icon on controller, you are need to check if your panel wire are discounted or loosen from controller.
(One tips, please make sure the leads are secure and good. The unsteady wire connection could cause system unfunctional and overheat.)
Let get back to controller stuff, when the the "Sun"symbol change to "Moon", the reason could be it is night right now or solar panel covered by shadow.
The "arrow"icon flash from panel to battery that refers panel is charging batter and arrow flash rate equal to charge ratting.  When you find a blank arrow icon, you need to take a shoot on panel output voltage and amps by a multimeter.
Some times, you may facing some problem with inverter fault alarm beeping, in this case, you are needed to check battery voltage firstly (Battery voltage too high or low, both will activate alarm).  
Battery symbol at the middle of controller display will show the battery voltage and capacity percentage, each one bar is 25% capacity.
You can download controller manual by click here