Description
ECO-WORTHY 5W & 10W Portable Solar Trickle Charger perfect trickle charger/maintainer for 12V batteries of cars, motorcycles, boats, snowmobiles, tractors etc. Comes with the cigarette lighter adapter, 1 pair of battery clips and 4 pieces of PVC suckers. Unique design-high quality clips to prevent short circuit. Charging 12V battery in emergency, suitable for the vehicles in outdoor work, travel or camping training, and the vehicles are put for a long time. Easy to install and completely maintenance-free. Environmental protection and energy saving, built-in blocking diode to prevent reverse discharge, not only maintains the battery lifetime but also extends its usage life, keep the battery from drain dead. Please note that the protective plastic film on the panel surface is supposed to peel off. The cigarette plug option only works if it has constant power when the key is out of the ignition. When you start the car, please remove the solar panel from the car battery.
Key Features
Plug & Play SAE Connector
Solar Panel SAE connector is plug and play, no need to recognize positive or negative, simple and easy to use. Note: As this is 5W & 10W solar panel main function is prevent battery drain out, not for full charging your battery.
Cigarette Lighter
Plug the cigarette lighter to socket when use it to charge or maintain vehicle's battery, really plug and play. Note: For some makes or models of vehicles, the cigarette lighter port may not operate when the ignition is turned off. In such cases, please connect the solar battery charger maintainer to the battery directly.
Alligator Clip Adapter
Use the red and black battery clamps to trickle charge and maintain 12V battery, make sure they connect correctly.
Built-in Blocking Diode
Built-in blocking diode to prevent reverse discharge. This solar power panel on your windshield with the suction cups or fix it on the sun visor with the back strips.
Why do we need a solar trickle charger
Three reasons to own a Solar Battery Trickle Charger
1. Batteries Naturally Discharge - Automotive batteries naturally discharge when not in use.
2. Vehicles have a small but constant battery drain - Modern vehicles have upwards of 30 body control modules (computers), alarm systems, immobilizers and lock monitoring. These units all consume electricity from the battery. That's why in a week or two with no or little vehicle use the battery can become discharged.
3. Battery life is shortened if it is not kept charged - A 12V battery that is not correctly maintained above 12.4V can suffer from sulphation. Sulphation is the main cause of battery failure. That's why the auto battery easy goes to dead when vehicles are left standing for long periods.
Package Includes
1x 12V 5W/10W Solar Trickle Charger with 57inch(145cm) Cord
1x Alligator Clip Adapter with 22.8inch(58cm) Cord
1x Cigarette Lighter Adapter with 22.8inch(58cm) Cord
4x PVC Suckers

5W Portable Solar Trickle Charger
Max Power(Pmax): 5W
Open-circuit Voltage: 22.41V
Short-circuit Current: 0.3A
Max Working Voltage: 17.9V
Max Working Current: 0.28A
Net Weight: 0.76lb(345g)
Size: 8.07"*9.25"(20.5*23.5cm)
10W Portable Solar Trickle Charger
Max Power(Pmax): 10W
Open-circuit Voltage: 22.41V
Short-circuit Current: 0.61A
Max Working Voltage: 17.9V
Output Tolerance: ±3%
Weight: 1.46lb
Size: 14.37"*9.25"(36.5*23.5cm)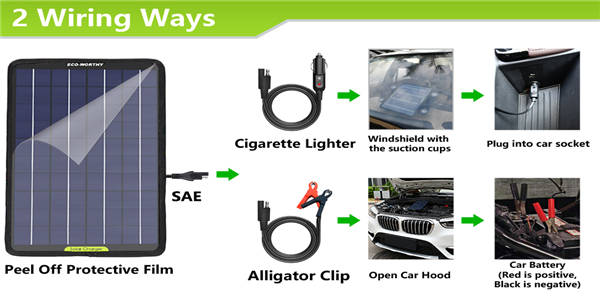 Suggested Products
Shipping & Return Policies
We hope you have enjoyed your online shopping experience with ECO-WORTHY. Please read below for more information about our shipping and return policies.
SHIPPING
We offer a free shipping service for most of mainland UK.
You will receive a confirmation e-mail after placing an order and another e-mail after your order has been shipped. The second one will contain the tracking information and some instructions on how to track your parcel.
ORDER PROCESSING
Procession time can take between 1-3 business days.
The time it takes to prepare your item(s) to ship from our warehouse. This includes preparing your items, performing quality checks, and packing for shipment.
SHIPPING TIME
All items sold at ECO-WORTHY are guaranteed to be delivered in 30 days.
If you have not received your item(s) beyond this time, you are eligible for a full refund after we have conducted a postal investigation.
| | | | |
| --- | --- | --- | --- |
| Shipping from | Shipping to | Shipping time | tracking information |
| UK warehourse | UK | 3-7 business days | tracked |

Freight: Larger Panels Kits must be shipped by freight, the shipping time is 5-14 business days.
Note: The shipping times mentioned above refer to the estimated times of business days that the shipment will take after an order has been shipped. Business days do not include Saturday/Sunday and any public holidays. These estimates are based on normal circumstances and are not a guarantee of delivery times. We are not responsible for the failures or delays in delivery resulting from any force majeure event, such as natural disaster, bad weather, war, and any other event beyond our direct control, such as public holidays and customs issues.
Full refunds are not available under the following circumstances:
1. Delays caused by the buyer providing incorrect or incomplete delivery information;
2. Delays in delivery caused by any force majeure incidents, such as natural disasters, bad weather, and war;
3. Any un-insured order that is lost or stolen;
4. Delays in delivery caused by any other beyond ECO-WORHTY's control, such as public holidays and Customs issues.
GUARANTEES & RETURN POLICY
14 Days DOA Product Guarantee
If one or more of the items you received are damaged, different, or not working, you will be protected by this Guarantee. Please
contact us
for Return Material Authorization within 14 days of the order being received. In the event of a replacement, ECO-WORTHY will arrange for return shipment of the defective unit, and once the part has been received and inspected, we will ship out the replacement part within 3 working days. To qualify under our Defective on Arrival policy, goods must be returned in their original packaging. Goods returned without original packaging will not be accepted.
30 Days No Reason Return
Standard in stock merchandise purchased through ECO-WORTHY may be returned within 30 days of the receipt of the product. You will receive a refund or credit towards your account, provided the merchandise is returned in the original packaging in new and resalable condition with the original blank warranty cards, manuals, and all accessories. ECO-WORTHY will pay the shipping costs of the returned item(s) for the following reasons: carrier damage, defective product, product inconsistent with advertisements, incorrect product received, or for any extra products you did not order. For all other reasons, customers are responsible for the return shipping fees. ECO-WORTHY requires at minimum 1-2 working days to inspect a returned item prior to issuing a refund or credit. 
Please note that ECO-WORTHY will not accept returns with product modifications as it voids our warranty policy. Any modified products received will be returned to you at your expense.
Please be prepared with your invoice or the following information:
Order number
Proof of purchase
Video or photo of the faulty product (if applicable)
Mailing address
Contact telephone number
Please carefully follow our warranty process to minimize any delays:
1. Describe the problem with your item in detail: What happened? When? How? Please also state your full order number and product code (SKU number).
2. Tell us what steps you have already taken to resolve the issue.
3. Provide the item code indicated on the outer packaging.
4. Send a clear photo or video showing the defect(s); these should be taken under good lighting.
Payment & Security
Your payment information is processed securely. We do not store credit card details nor have access to your credit card information.